Introduction to the IBM Thinkpad 701C
The 701C "Butterfly" has always held a special place of distinction in the hearts and minds of Thinkpad fans. Never before or since has any manufacturer taken such a bold gamble with laptop design. If you have never seen one of these there is a video on Youtube showing the "butterfly" keyboard action:
This video also shows that the Butterfly is on permanent display at the Museum of Modern Art in New York City as a testament to its unique industrial design.
I got my first 701C in 1998 or 1999 and used it as my primary laptop for a couple years. Finally, the 486/75 processor just could not keep up with advancing technology. I loved the thing so much I have been buying them up over the years, refurbishing them and selling on eBay or keeping them for my personal collection.
As originally sold by IBM in 1994-1995, the Butterfly was fitted with either an Intel DX2 50 mhz CPU or a DX4 75 mhz version and a 640 x 480 10.4 inch screen in DSTN (256 color) for the 701Cs or TFT  (16 bit color)in the 701C.
Hard drive options ranged from 360 megs to 720 megs and memory was 4 megs onboard on the 50 mhz version and 8 megs on the 75 mhz. It has one expansion slot for a 72 pin EDO module up to 32 megs so maxxes at 36 or 40 megs. Uses an external floppy and originally shipped with a printer cable and a port replicator which allows connection of a printer, mouse external keyboard and monitor. Originally offered with Windows 3.1 and IBM's OS2 operating system in dual boot, they run Windows 95 very well but struggle a bit with Windows 98.
A 14.4 mbps onboard hardware modem is included, and there are 2 PCMCIA slots, and infrared. Batteries were NiCad or NiMh.
Metamorphosis-the Butterfly Emerges
Bill Morrow has also gathered a large assembly of Butterfly units and parts. About a month ago, he sent me a couple boxes of  units and components and my first order of business was to assemble a working 701C using an aftermarket AMD 586 (Pentium Class) 133 Mhz motherboard Bill had in his collection. He also sent me a very rare 64 meg memory modules. These motherboards and memory modules were available on the market in the early 2000s, but you never see them now.
Above you see the components laid out for assembly. The Butterfly uses an upper and lower planar motherboard arrangement with the upper board stacking on top of the lower to minimize the footprint.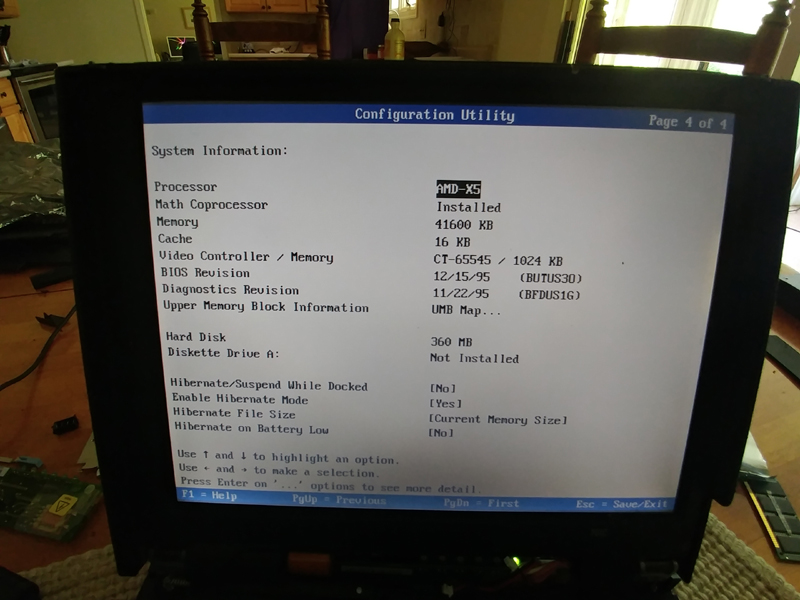 The modified BIOS shows the processor as an AMD-X5.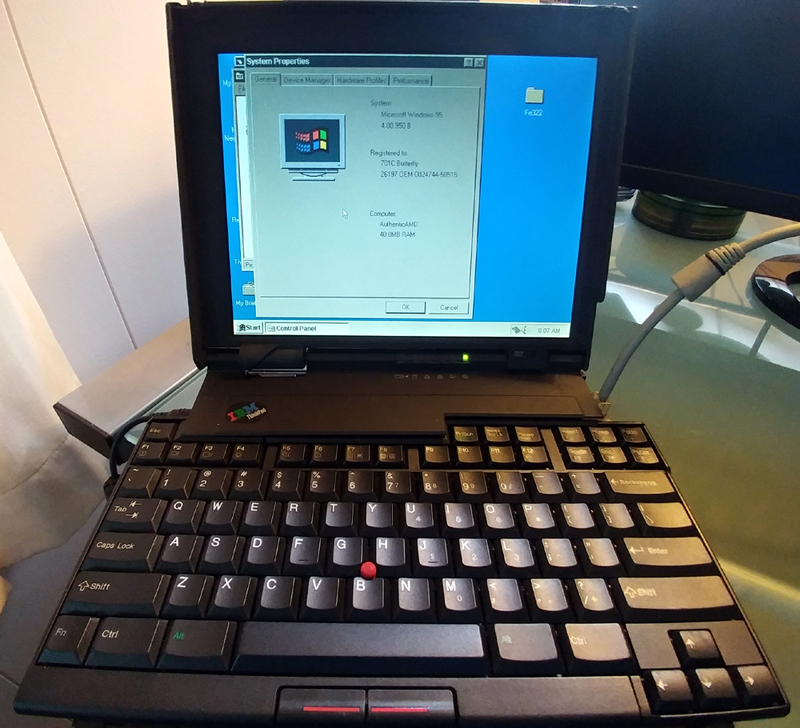 The unit, fully assembled, with a 540 meg hard drive and Windows 95 loaded. 40 megs RAM and an "AuthenticAMD" processor. The 64 meg memory chip had extensive errors and, when installed, would prevent Windows from loading with kernel panics. I had a 32 meg chip which seems to work fine. The POST routine still displays some 201 memory errors but you can tap "esc" and get past them to boot into Windows 95. I installed a PCMCIA NIC and was able to update the software, add an Office Suite from the mid-90s and a DOS shooter game (Kilo Blaster). The sound card registers as fully Soundblaster compatible and it plays the DOS game great.
All in all, a great and unique piece. The chassis parts have some scratches, and there is just a touch of tackiness (stickiness) which unfortunately is common in 701s that have been stored. The keyboard is NOS and as you can see in the picture, is perfect.
Conclusion
Bill and I have not decided what to do with this one. I have some larger hard drives and he sent me an .iso of the original factory load which I am still trying to figure out how to get installed. I have also assembled another more common 486/75 unit from Bill's and mine and am working to put together a couple more. Hoping this post will generate some online discussion and don't hesitate to PM me in the Forum.
-Steve ("hwattys")